01
Chat and calls

You can send text, voice messages and attachments to employees or groups from your browser, Desktop App or Mobile App. When the recipient is offline it will be delivered once they are online, similar to other social media platforms.

Other features: Mentions, screen share, delivery notification. emoticons, voice messages.

02
External users
You can give your customers or suppliers access to this feature by loading them as extranet users on your Bitrix24.

This feature is available on the commercial packages. and extranet users does not add-up to your Bitrix24 user count.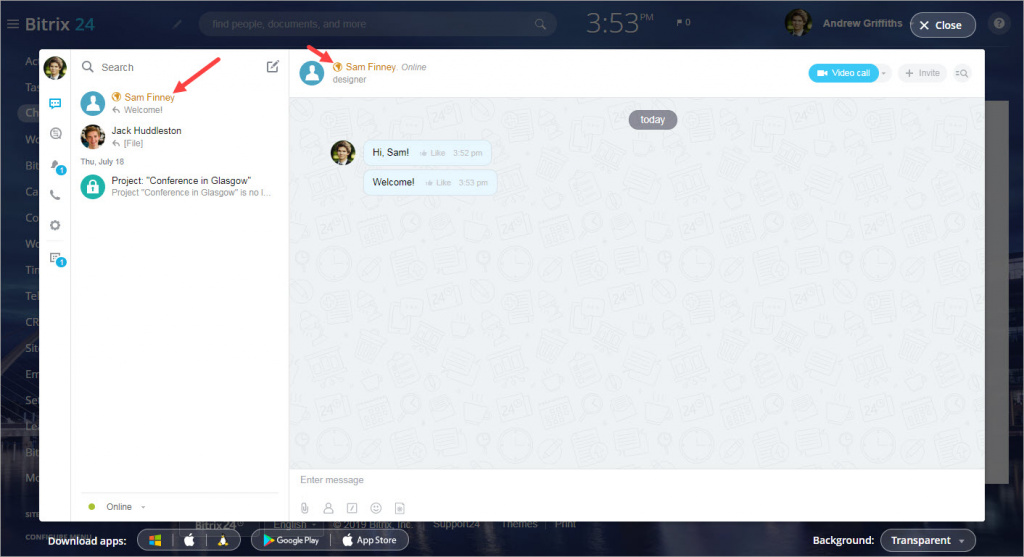 03
Workgroups

With the project management module of Bitrix24 you can create workgroups for specific departments or projects that only involve specific employees.

Each workgroup will also have their own chat group for message, audio and video calls. You can also add customers suppliers to these groups.

04
VoiP and telephony
Using the SIP connector module you can connect your VOIP or cloud PBX to your Bitrix24 portal to make and receive phone calls to external numbers.

Your desktop app or browser will be used as a soft-phone but you also have to option to connect a VOIP desk-phone to your Bitrix24 telephony.

Details

Johanika Pretorius